⭐⭐⭐⭐⭐
THE WORLD'S #1 VIDEO PROSPECTING POWERED BY A.I.
A Personalized Experience Your Prospects Will
Click & Reply.
Video prospecting is boring and takes time. With ReachOut.AI, you can deliver personalized 1:1 videos over and over without recording anything.
Plans Start From As Low As $79 / Month
Personalized Videos Created
Meet Reachout.AI
#1

Automated

Video Selling Platform
Reachout.AI is a personalization platform for automated 1:1 video messaging, preferred by founders and sales teams for breaking through inbox clutter and driving consistent, predictable sales conversations and appointments using the power of A.I.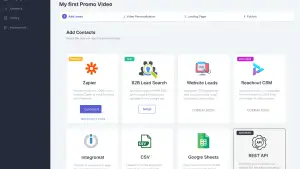 Quickly add leads and contacts from the source by connecting your CRM using Zapier, and more.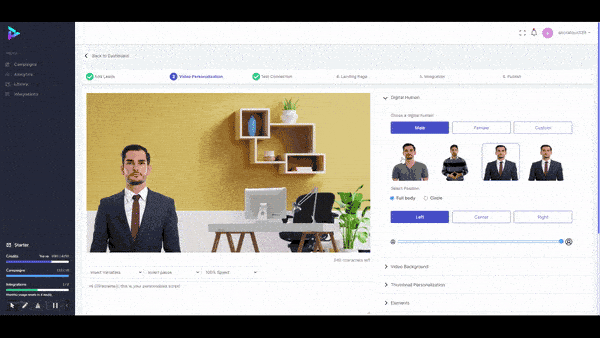 2. Personalize Your Video
Choose one of the available AI humans and type a text or upload a pre-recorded video and customize it for dynamic background superpowers.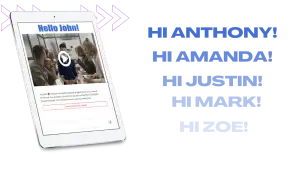 Send your dynamic personalized videos to external tools you already use.
Success Stories
4% to 52% CTR in 3 days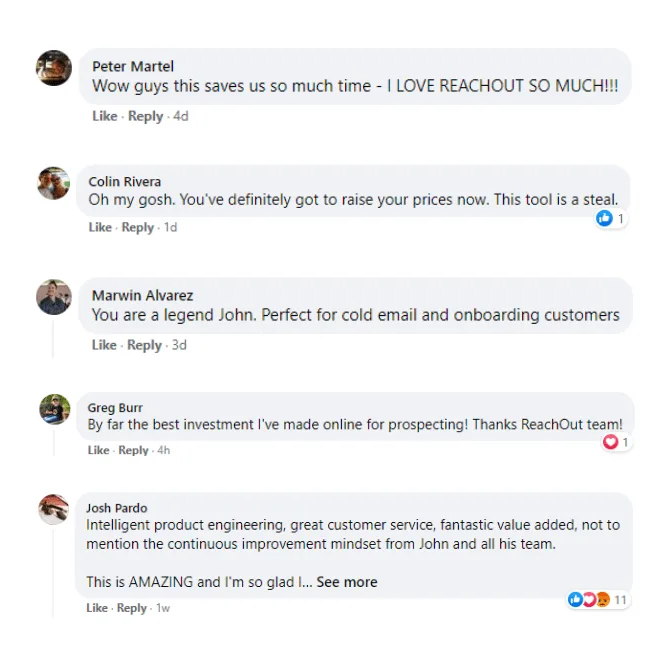 ⭐⭐⭐⭐⭐
"Today I landed one of the largest deals for 2021 for the organization."
⭐⭐⭐⭐⭐
"78% CTR on an AI video selling campaign I launched used this week and just booked a meeting before this call with a huge account!"
"Meeting set with CEO for a large payer Friday the 30th to go over pricing model and our video production services"
⭐⭐⭐⭐⭐
"Had a monster win day-- landed 84 new email responses!!"
⭐⭐⭐⭐⭐
"I booked an appointment today with a big corporation with 5,000+ employees under Management. There was no phone touch involved."
"15 appts. so far this week - 10 re-engage and 4 net new from cold email outreach - 80% open on new campaign"
⭐⭐⭐⭐⭐
"72% email open rate; just created an opportunity with the IT Director of a big retail company in FL, using the AI Digital Clone humor play"
⭐⭐⭐⭐⭐
"just hit quota this week for the year and set up a meeting using the strategy from the last coaching call I was on"
Why Personal Videos & Why Reachout.ai
Your prospects have grown immune to the typical personalization strategies.
Which of the following email would you read?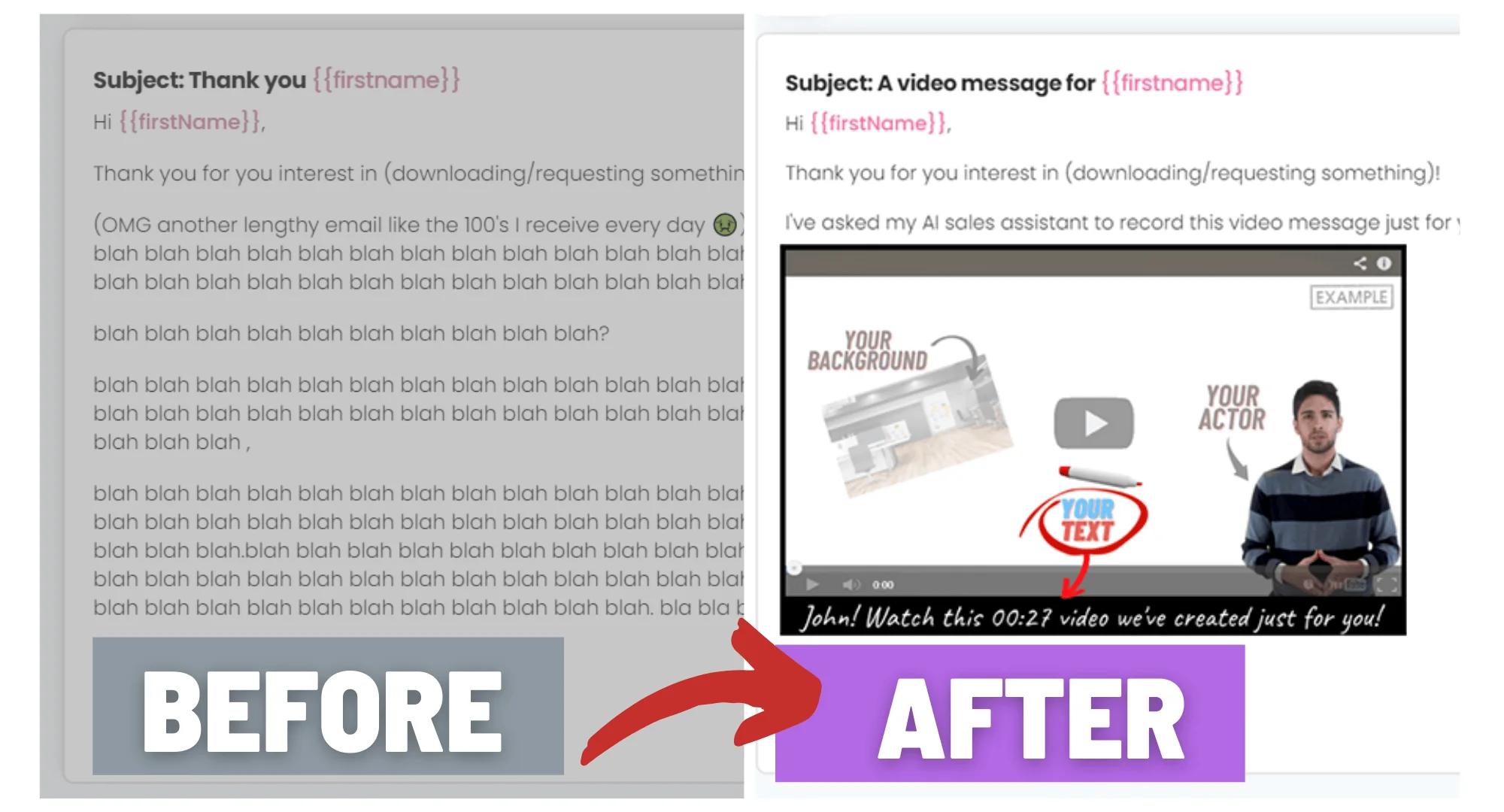 Personal videos is the NEW THING to land better clients (and more of them too) in 2022!🎉🎊
❌ The problem:
Recording and sending 1:1 videos for each customer is a time-consuming and not scalable process.
✅ The solution:
Win the inbox with Reachout.ai, the AI-powered tool that help entrepreuners and sales teams break through the inbox noise by generating personalized videos at scale. Each and every of your customers will receive a human-like personalized video created just for them.
People lie but numbers don't. The truth is in the data and human psychology.
Not an Average Personalization.
Reachout.ai is an AI-powered video prospecting platform built for busy entrepreneurs and sales teams who love getting high email response rates and starting conversations with prospects—but hate wasting time recording 1:1 videos.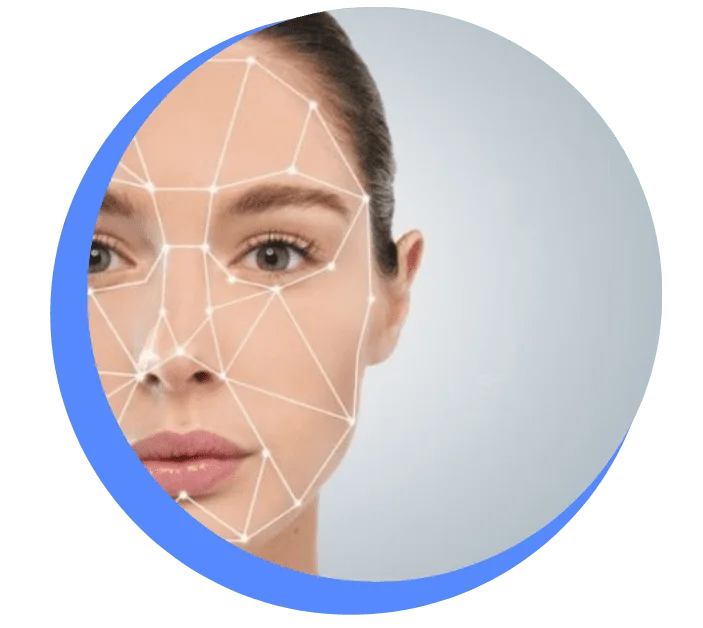 Use Cases
How others are using Reachout.ai to stand out in their customer's crowded inbox and get higher email response rates, faster!
Multiple connection methods.
Video Prospecting

Powered by AI
Say goodbye to repetitive tasks and get 10 hours back each week. Reachout.ai awakes the prospect's mind and transform "invisible" faceless emails into conversations, appointments, and sales!

Hiring VAs and spokespersons is costly.

Go from one video to 1000's with just a click. 

Break the pattern and "WOW your customers!

 Create unlimited campaigns and reach out to prospects with a hyper-personalized scalable video selling strategy.

Choose from our AI presenters or create your own avatar. No actors or camera needed. We support 50+ languages and accents.

Auto-generate a personalized landing page for every unique video and choose to include CTA buttons or even built-in chat widgets.

Smart Dynamic Backgrounds
Auto-generate a custom background for every unique video and show your customers their very own website as the video background!

Thumbnail Personalization
Engage your audiences with email thumbnails personalized for every individual.

Elevator Pitch Transitions
Transition to a pitch right after your AI video intro grabbed their attention and ask for that call to action! No video editing is required.
WORLD'S #1 DIGITAL HUMAN PLATFORM
BUILT FOR SALES
...NOT GAMES! 🚀
Request early access today and spend zero time recording, and more time selling.
Registration is by invitation only. Request access today.
Technology has evolved. Finally, video marketing too.
A

Better Way

To Video Prospecting
"Think About Alexa... But As A Talking-Head And Reaching Out To Each Of Your Customers On Your Behalf... Even While You Sleep!"
Turn "faceless" plain text emails into human-like 1:1 videos.
Our brains are hardwired to process video content 60,000 times quicker than text. Reachout.ai enables you to transform long "faceless" emails into bit-sized personalized videos without recording or editing.
Turn TEXT into video emails
Generate 1000's AI videos in minutes
Save up to 6 hours a day
6x cheaper than humans
3X your response rates
Create your digital clone — and even clone your voice!*
You can choose an AI Human from our library, but… sometimes, you need to put a familiar face in front of your customers. Reachout.ai makes this easy to request a custom avatar and turn yourself into a complete AI Human, so you never have to record or edit a video again.
Replace pre-recorded video backgrounds dynamically, at scale.
Turn pre-recorded videos into personalized experiences by automatically replacing the video background with your prospect's website or any other URL, at scale.
Just upload a selfie-like video; we automatically use this to create unique video emails for each recipient.  
All you have to do is to tell us what variable to use for the video background. 
Generate dynamic video sharing pages
Generate dynamic landing pages for every personalized video message, automatically! Want total control? Embed videos on your self-hosted landing pages.
Track what's working with simple results dashboard, and track the entire customer journey — including video plays, button clicks, and conversions!
Access millions of validated contacts
No leads? No problem! Take advantage of an extensive built-in database packed with millions of clean, verified B2B contacts and get direct access to B2B decision makers so you can build a pipeline, shorten your sales cycle, and close more deals.
Access an All-In-One Sales Engagement CRM
Not using your own CRM already? No worries, we've got you covered. Reachout CRM Suite lets you launch drip campaigns and close more deals than any other CRM. It helps you engage with your leads across multiple channels on autopilot.
WORK SEAMLESSLY
WITH ALL YOUR
FAVOURITE TOOLS
Reachout.ai allows you to con